Sneak Peek: Capitol Standard is a D.C. based digital publication for ambitious young professionals. Two years after their founding, the Capitol Standard team was on the search for a new look and feel to help grow their business.
I worked closely with their founder and Editor in Chief over the course of 6 weeks to design a fresh, stylish, and responsive website that the lean team could implement, maintain, and scale. The website is currently under development and scheduled to re-launch soon.
More content to come after the re-launch!
Services provided
Website Design

Creative Direction
Ursula Lauriston
Editorial Photography
For Placement Only
"It took me over a year to find the right designer. I wanted someone who understands the vision, has good taste, and gives a damn. Do-Hee is all those things. She cares as much as you care. She takes everything into consideration, including where you are presently in your business and how you will scale in the future. I will reserve my recommendation of her solely to world-class clients looking for world-class talent."

- Ursula Lauriston, Editor in Chief
To kick off the project, I spoke with Ursula, Capitol Standard's Founder and Editor-in-Chief, at length about her hopes and dreams for Capitol Standard and what she sought to achieve with the redesign.
For Capitol Standard, the new visual design had to: 1) reflect the brand ethos; 2) appeal to a young, professional D.C. readership; 3) boost confidence and trust from business partners.
The redesign also had to address a more practical problem for the Capitol Standard team. Their existing design suited a publication with frequent posts, like a daily blog, which didn't make sense for the lean team. With a handful of writers and a shift in focus to publishing longer, feature stories, we decided that the homepage design had to able to stand on its own with a small selection of featured stories but also flexible to accomodate more stories, should the pace of publication change.
Sophisticated, bold, fresh design that could stand the test of time.
After a collaborative visual brainstorm and a moodboard to clearly align on the general aesthetic of the website, I dove into the visual redesign, starting with the homepage. I pulled in bold yet timeless display serif typefaces to highlight the headlines of Capitol Standard's original stories. I sourced placeholder photographs that reflected the brand's personality and were in a style that could be reproduced by the Capitol Standard team.
I presented 3 different visual directions for the homepage from which we narrowed down to the one we both loved and best represented the spirit of the brand.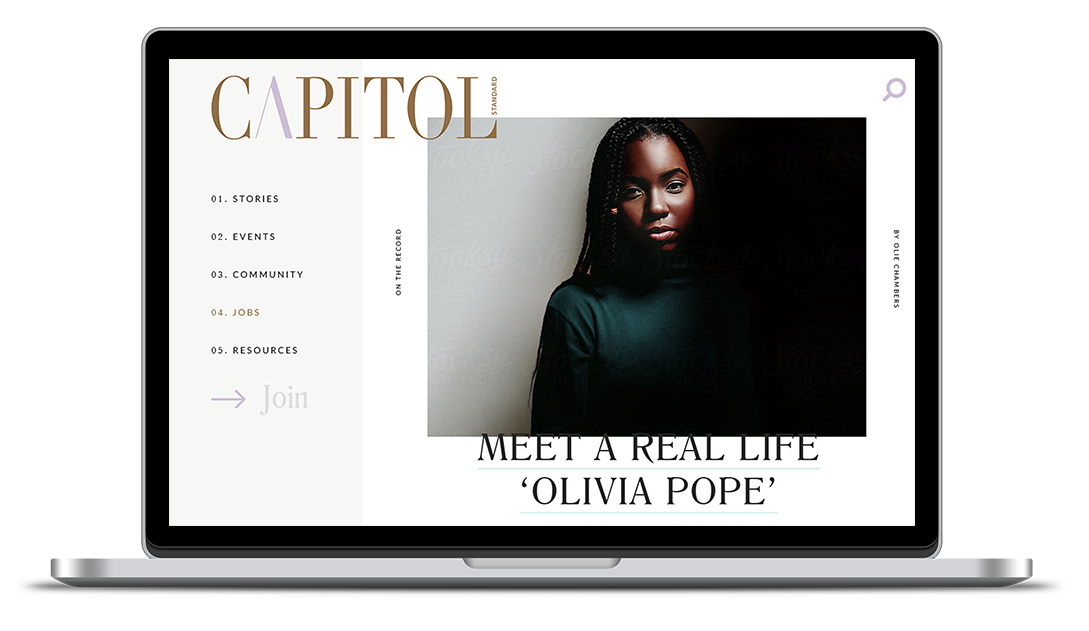 Using the look & feel and type system from the selected homepage design, I designed 7 additional pages important to the Capitol Standard team and their revenue generation goals. I created a desktop and mobile design for every page, all of which I can't wait to share with you. The new website is currently under development and scheduled to launch soon.
More details to come after the launch. Stay tuned!