Hillflint is a SF/NYC-based e-commerce brand creating quality branded lifestyle apparel for the contemporary, style-conscious consumer.
Since early 2015, I've partnered with the co-founders, John Shi and Woody Hines, on multiple projects from an extensive e-commerce website redesign, email designs, to physical product designs. Below are in-depth looks at some of my favorite projects with Hillflint.
Services provided
Website Design
Email Design
Brand Consultation
Product Design

Creative Direction
Woody Hines & John Shi
In early 2015, Hillflint approached me to partner on a complete design overhaul of their e-commerce website. They had outgrown their bootstrapped design they had launched with 2 years earlier and was looking for a branded web presence that reflected the company's personality and better showcased their original products. Throughout the design process, we also consulted Hillflint's existing e-commerce platform, taking into consideration their development capabilities and limitations.
After many conversations and collaborative visual brainstorming to kick off the visual design of the website, we set our sights on a design that was contemporary and approachable with a nod to athletic heritage. I explored several different visual directions for the homepage given those parameters. Some were too far in the "approachable" end of the spectrum, others, "too heritage." Below are some of the rejected concepts, some of which I still love.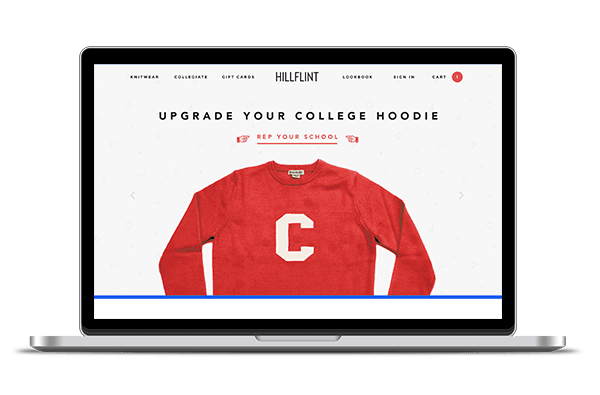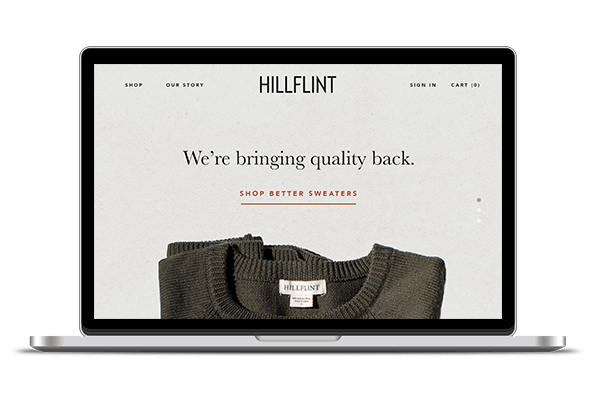 The conversations resulting from the initial concepts above helped us soon land on a direction that felt just right.
A sports-inspired sans serif typeface paired with a classic serif. A neutral base colors with dashes of bright red. A clean, crisp canvas sprinkled with bold iconography. These elements came together to achieve the balance of playful and classic that Hillflint was looking for.
One of the pages of the e-commerce website redesign we gave a lot of attention to was the Product Detail Page. When people see Hillflint's products in real life, they fall in love. The question was, "how could we recreate that experience for customers shopping online?" We wanted the Product Detail Page to tell the story behind the sweater and showcase the beautiful details, but in a way that was feasible and scalable by Hillflint's small team. I designed a custom full-bleed product detail page with real estate devoted to storytelling and highlighting product details that Hillflint could easily opt-in to use for select products. We've since partnered with Hillflint's e-commerce platform to build this custom feature.
I also partnered with Hillflint to design email templates as part of the initiative to grow the email marketing channel. The goal was to design flexible, easy-to-use templates that the Hillflint team could easily customize to send out to targeted customers segmented by school. The emails I designed were fresh, brand consistent, and mobile-friendly.
Over the last year, I also had the opportunity to consult on physical products for Hillflint. The Hillflint team was exploring the idea of expanding their product line to included sweatshirts for women and consulted me for typographic designs. I created a moodboard for my idea of the "Hillflint Girl" and created typographic designs for the sweatshirts that felt current and were rooted in the classics. While these sweatshirt designs were not produced, I personally had an awesome time working on them (and would buy one should Hillflint ever decide to manufacture them)!