True&Co. is an e-commerce brand disrupting the traditional approach to women's lingerie. Using data from real women in combination with a proprietary fit algorithm, True&Co. designs beautiful bras that fit and address common issues — bras women love.
The challenge was to capture all that sets True&Co. apart from other lingerie brands and communicate the story in a simple and visually compelling manner. In a true team effort with True&Co.'s Marketing Team and Creative Director, I led the visual design of this story across multiple marketing channels.
Services provided
Catalog Design
Email Design
Website Design
Art Direction
Illustration

Creative Direction
Nikki Dekker & Michelle Lam
Fashion Photography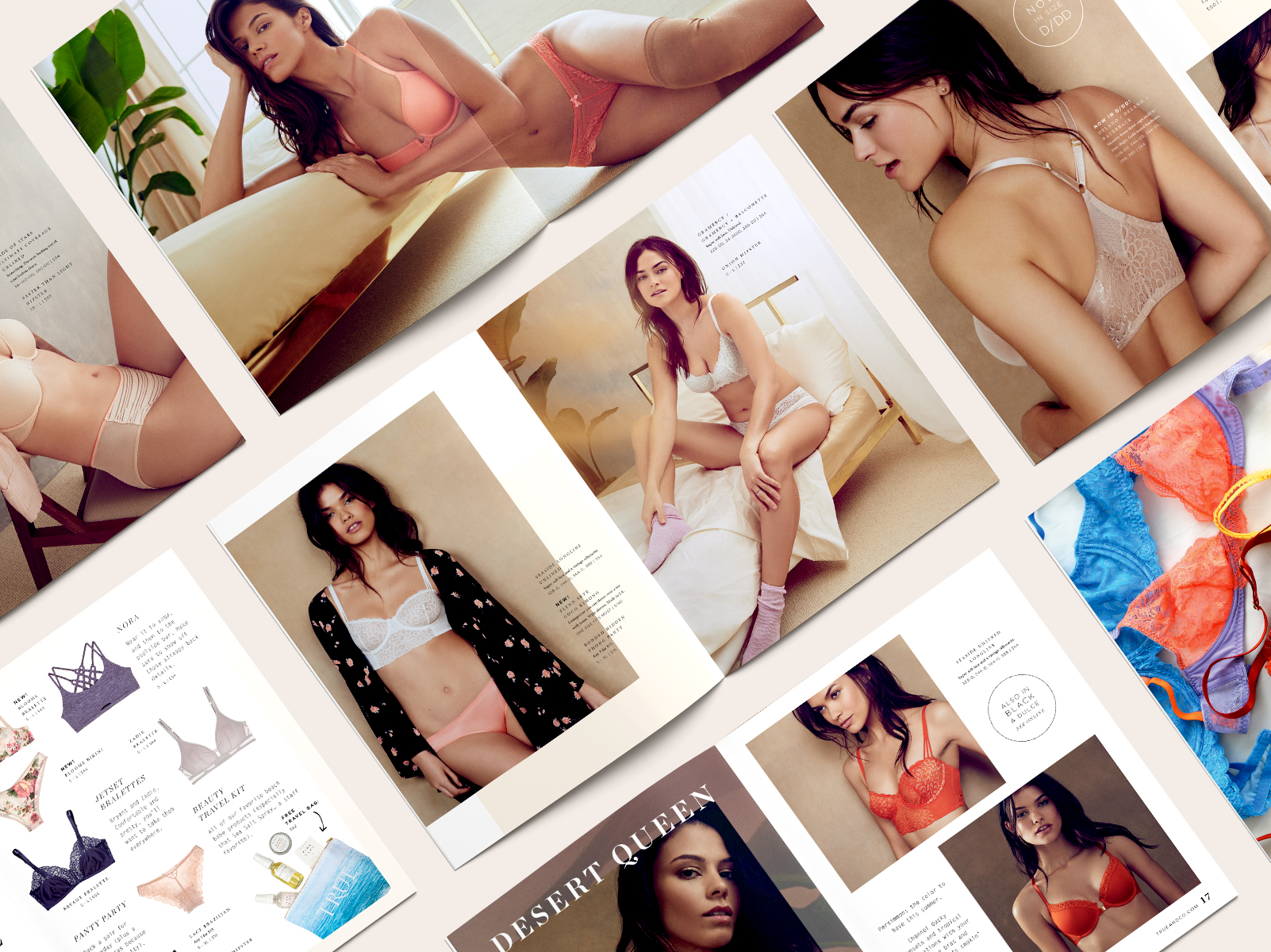 To kick off the season, I brainstormed with Nikki Dekker, True&Co.'s awesome Creative Director, to establish the look & feel. We asked ourselves the question, "How can we best capture our products and our brand of sexy?" given a number of factors such as product lineup, commercial viability, and budget.
We landed on two visual moods for the season and presented these concepts to the Marketing and Merchandising teams. Making sure we were all aligned on the look and feel as part of the planning process reduced spin during execution of the campaign.
The main deliverable for the season was a 52-page print catalog. I was responsible for the visual design of this truly cross-functional effort while keeping to a tight start-up timeline.
Informed by findings from our FW '15 catalog results, our goal with the SS '16 catalog was to strengthen the print catalog as a customer acquisition and conversion tool. We sought to achieve this by producing a catalog that was both visually stunning and captured the story of what made True&Co. unique and helpful for women. The design needed to address the question, "Why should women buy bras from True&Co.?"
In addition to designing beautiful, product-focused spreads with the stunning photography, I introduced illustrations to help customers understand the bras True&Co. designed for different aspects of her life. I also designed an "unorthodox" opening spread to the catalog that captured the main takeaways for what makes True&Co. unique.
Email is another important channel for customer engagement and conversion for True&Co. The goal for emails for SS '16 was to reduce decision paralysis and improve click-through and purchase conversion on the website.
I designed email campaigns and corresponding web design assets that are mobile-friendly, bold, simple, and put the spotlight on True&Co.'s thoughtfully designed products.